Disability Pride Month
July is Disability Pride Month. Some disabilities are obvious, many are not. Hidden impairments affect more colleagues and friends than you may realize. During the month of July we recognize all human differences and the need for health equity and psychological safety in the workforce.
Why is Disability Pride Month Celebrated in July?
We celebrate Disability Pride Month in July since it commemorates the anniversary of the Americans with Disabilities Act (ADA).
On July 26, 1990 the ADA was passed and signed into law. This legislation provides civil rights protections and "prohibits discrimination against people in several areas, including employment, transportation, public accommodations, communications and access to state and local government programs and services." (U.S. Department of Labor).
5 Types of Disabilities
Hidden impairments affect more colleagues and friends than you may realize. Including:
Intellectual and Developmental Disabilities such as ADHD or dyslexia.
Sensory Disabilities such as hearing loss, vision impairment, or Autism.
Mental Illness Disabilities such as depression, eating disorders, PTSD, or anxiety.
Physical Disabilities such as epilepsy, rheumatoid arthritis, deafness, blindness, or fibromyalgia.
Invisible Disabilities such as Crohn's Disease, Celiac Disease, and diabetes.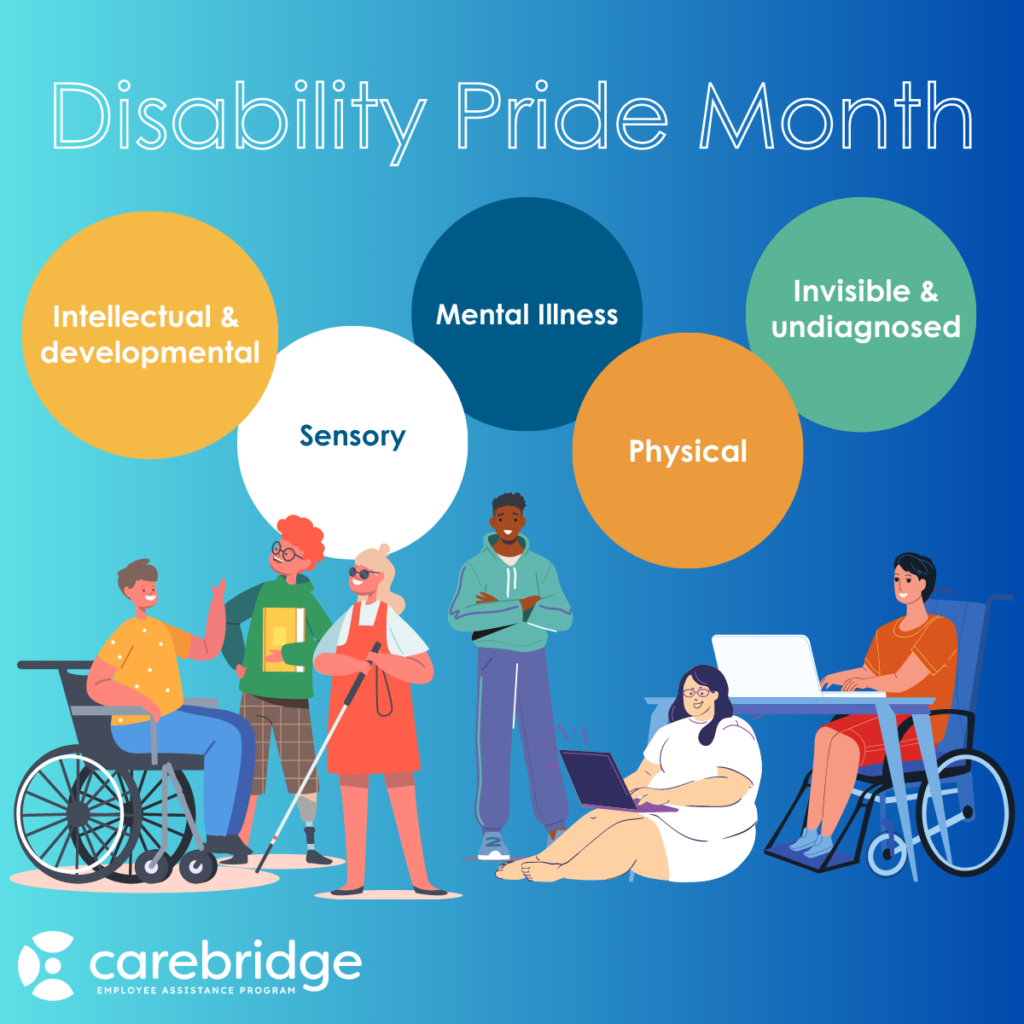 4 Ways Organizations Can Better Support Disabled Employees
A healthy company culture supports diversity, equity, and inclusion (DE&I) efforts. While the ADA requires employers to provide certain accommodations, here are 4 additional ways organizations can better support their disabled employees.
1. Offer Remote Work and Flexible Schedules
While remote work and flexible schedules are an accommodation all employees can benefit from, it is particularly vital for disabled individuals. Working safely from a home that already meets their specific needs helps remove concerns with mobility and accessibility. And creates equal opportunity for applying to more open positions, getting job offers, and sustaining career growth. As a result, these accommodations can increase employee productivity, engagement, effectiveness, and retention.
From 2021 to 2022, the U.S. Bureau of Labor reported an 11% increase in jobs by disabled individuals ages 16 to 64. As companies continue to call workers back to the office full time or hybrid, we'll soon know how reverting back to pre-pandemic practices impacts workers with disabilities.
2. Support Employee Resource Groups
Employee Resource Groups (ERGs) are voluntary, employee-led groups that promote inclusion for traditionally underrepresented segments of workers, improve the attraction and retention of employees who identify with these segments, and increase representation of diverse talent. ERGs can help inform company policies, positive change and, if applicable, increase awareness of meaningful causes.
3. Review Accessibility from Multiple Perspectives
There are basic accommodations required by the U.S. Department of Labor, but organizations that go beyond that will retain and attract more diverse employees. Reviewing your office layout through the experience of others can bring awareness to accessibility obstacles that non-disabled individuals may take for granted. But it's more than the physical environment. Review company communication channels and methods, technology, and standard operations procedures (SOPs) for gaps in accessibility as these can create unnecessary challenges for those with hidden impairments.
4. Empathy Training for Leadership & Managers
Leadership trainings should include education and development for empathy, emotional intelligence, and DE&I. This will help improve your company culture and extend the message for inclusion and belonging to all employees.
While we celebrate Disability Pride Month in July, it's important all year long to recognize how organizations that go beyond the requirements of the Americans with Disabilities Act create more equity in the workforce.